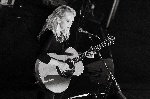 Date:
July 25, 2018 to July 25, 2018
Where:
Ridgefield Playhouse, 80 E Ridge Rd, Ridgefield, Connecticut, United States, 06877
CUTLINE
In celebration of her 30-year recording career, Mary Chapin Carpenter released Sometimes Just The Sky in March. The landmark record features new versions of twelve of Carpenter's most beloved songs as well as one newly written song, the title track. Produced by Ethan Johns (Ryan Adams, Paul McCartney, Ray LaMontagne), the album was recorded entirely live at Peter Gabriel's Real World Studios outside Bath, England. Joined by long-time collaborator Duke Levine on guitar and a handpicked band of Johns' favorite musicians, Carpenter reimagined one song from each of her twelve studio albums along with "Sometimes Just The Sky." See Mary Chapin Carpenter on her Sometimes Just the Sky Tour on Wednesday, July 25 at 7:30pm at The Ridgefield Playhouse, part of the Doyle Coffin Architecture Singer Songwriter Series and partially underwritten by Canine Training and Behavior Services, LLC. Opening act for the night is Emily Barker. Media sponsor for this show is WFUV. For tickets ($77.50) call the box office at 203-438-5795, or visit ridgefieldplayhouse.org. The Ridgefield Playhouse is a non-profit performing arts center located at 80 East Ridge, parallel to Main Street, Ridgefield, CT.
https://ridgefieldplayhouse.org Twitter: @RPlayhouse Facebook: https://www.facebook.com/ridgefieldplayhouse/