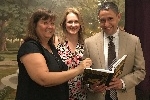 Date:
July 22, 2018 to July 22, 2018
Where:
Ridgefield Playhouse, 80 E Ridge Rd, Ridgefield, Connecticut, United States, 06877
CUTLINE: Karen Facini (left) and Darrin Fodor (right), both Vice Presidents with People's United Bank and Bridget Butler (middle), Development Manager at The Ridgefield Playhouse, review a copy of Shakespeare's "Hamlet" in anticipation of a live production of the play at The Ridgefield Playhouse on Sunday, July 22nd.

STORY:
Thanks to People's United Bank, The Ridgefield Playhouse is able to present the annual "Shakespeare on the Green & Green Expo," a free outdoor Shakespeare production and Green Expo, for the 13th year in a row! This is the second year that People's United Bank is the presenting sponsor for this fun family day, which takes place on Sunday, July 22nd from 12noon - 4pm on the field next to The Playhouse. The Green Expo begins at 12 noon and features local businesses that are conscious about making environmentally friendly choices. The Hudson Valley Shakespeare Festival will perform "Hamlet" live, from 2-4pm, under a tent next to the Expo.
This "give back" to the community started as a way to thank townspeople for supporting all of the performing arts presentations that The Playhouse does throughout the year by offering a free performance, and would not be possible without the generous support of its sponsors. In addition to People's United Bank, located inside the Stop & Shop on 125 Danbury Road in Ridgefield, as the Title Sponsor of the event, other sponsors include long-time supporters of The Ridgefield Playhouse: Trish Breede, Ann & Steve Carlson, Pitney Bowes, The O'Connell family, and Keller Williams Realty, with additional support provided by Pepsi and All Season Tent & Party Rentals. "We're excited to be a part of this free community event again this year," said Karen Facini, Vice President at People's United Bank. "People's United Bank is committed to helping our community thrive. By partnering together, we can all contribute to the economic growth and development of our town and make our community a happy and healthy place to live and work."
Tickets to the event are free but must be reserved ahead of time by calling The Ridgefield Playhouse at 203-438-5795. Tickets must be picked up the day of the event between 12-1pm at the Expo. Playgoers are encouraged to show their support for local green businesses by attending the Expo. Exhibitors include: BMW of Ridgefield, Candles Inspired by Nature, Citra Solv, DotDotSmile, Embody the Sacred, Alex Fischetti, Krystal Kleer Water, Michael Chekhov Theatre Festival, The Olive Oil Company, Putnam Service Dogs, Renewal by Andersen, Ridgefield Conservation Commission, ROAR, The Rooted Plow, Three Roots Education, Town of Ridgefield Organics Program, UK Gourmet, and Wink.

For more information about upcoming Ridgefield Playhouse performances, visit www.ridgefieldplayhouse.org or call the Box Office at (203) 438-5795. The Ridgefield Playhouse is located at 80 East Ridge Road, parallel to Main Street, in Ridgefield, CT.